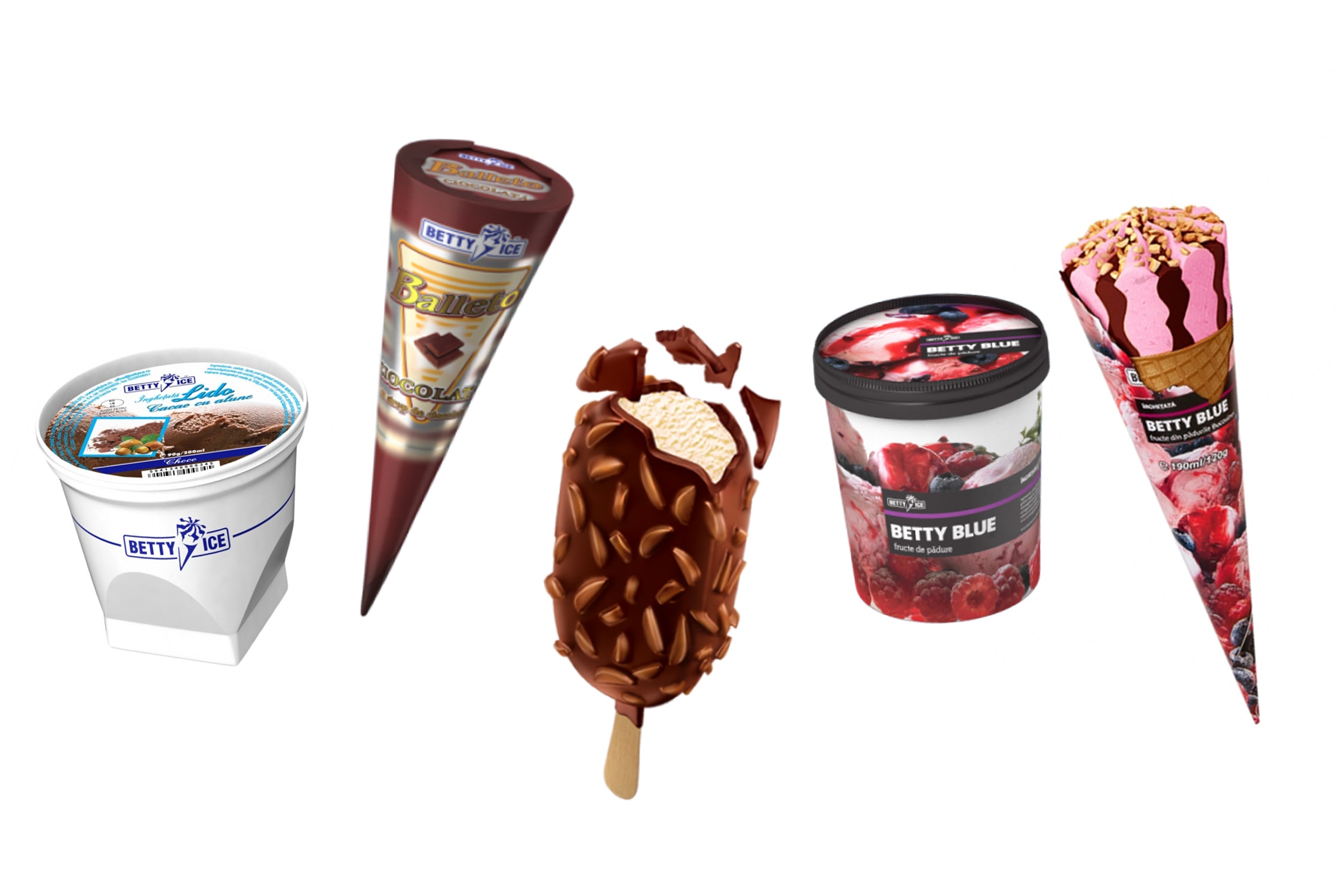 Betty Ice, the place where you'll always find ice cream with balanced and natural flavors
Betty Ice, the brand that creates deserts based on natural flavors
When you think about Betty Ice, you think about a well balanced, natural flavored desert. The brand founders want to offer customers a perfect ice cream, with natural flavors.
As a result, each of over 60 different Betty Ice ice cream types offers a delicious gastronomical experience which you'll want to try again, in the same product, or a different one. When you first try a Betty Ice flavor it's impossible not to crave for a second, a third… and so on.
Happily, there are several types, to please everyone. Among the most popular ice cream flavors we mention chocolate, berries, vanilla and caramel.
If you're a fan of the fresher flavors, at Betty Ice you can delight your taste buds with mint or lemon flavored ice cream. But you may also combine these flavors, to your hearts content.
No matter the flavor you choose, it's essential to note that the founders of the Betty Ice company set their goal, even from the beginning, on bringing a special desert on the Romanian market, a desert exclusively created with carefully chosen ingredients. Since 1994, when the Betty Ice company was founded, and to this day, their ice creams stood out thanks to a fine, creamy and delicate flavor, which rose to the highest standards.
By the way, the company's goal was and still is to become the best at what it does. Thanks to the passion invested in each created desert and thanks to carefully chosen ingredients, Betty Ice has managed to be one of the most important ice cream brands in our country, so...
Come to Betty Ice Supernova Pitesti, in order to delight your senses with an absolutely delicious ice cream!
Craving something sweet? Would you go out in order to enjoy a fine gastronomical experience? Ice cream is your favorite dessert, so from time to time you want to try new delicious flavors, isn't that right?
No matter which of the above is right, this is an excellent opportunity for you to pay a visit to Betty Ice Supernova Pitesti and give yourself your favorite desert!
You'll certainly find at least one flavor you definitely want to try here. Still, we're warning you that it's highly likely to be tempted by two or more flavors, and to finally end up combining more types of ice cream.