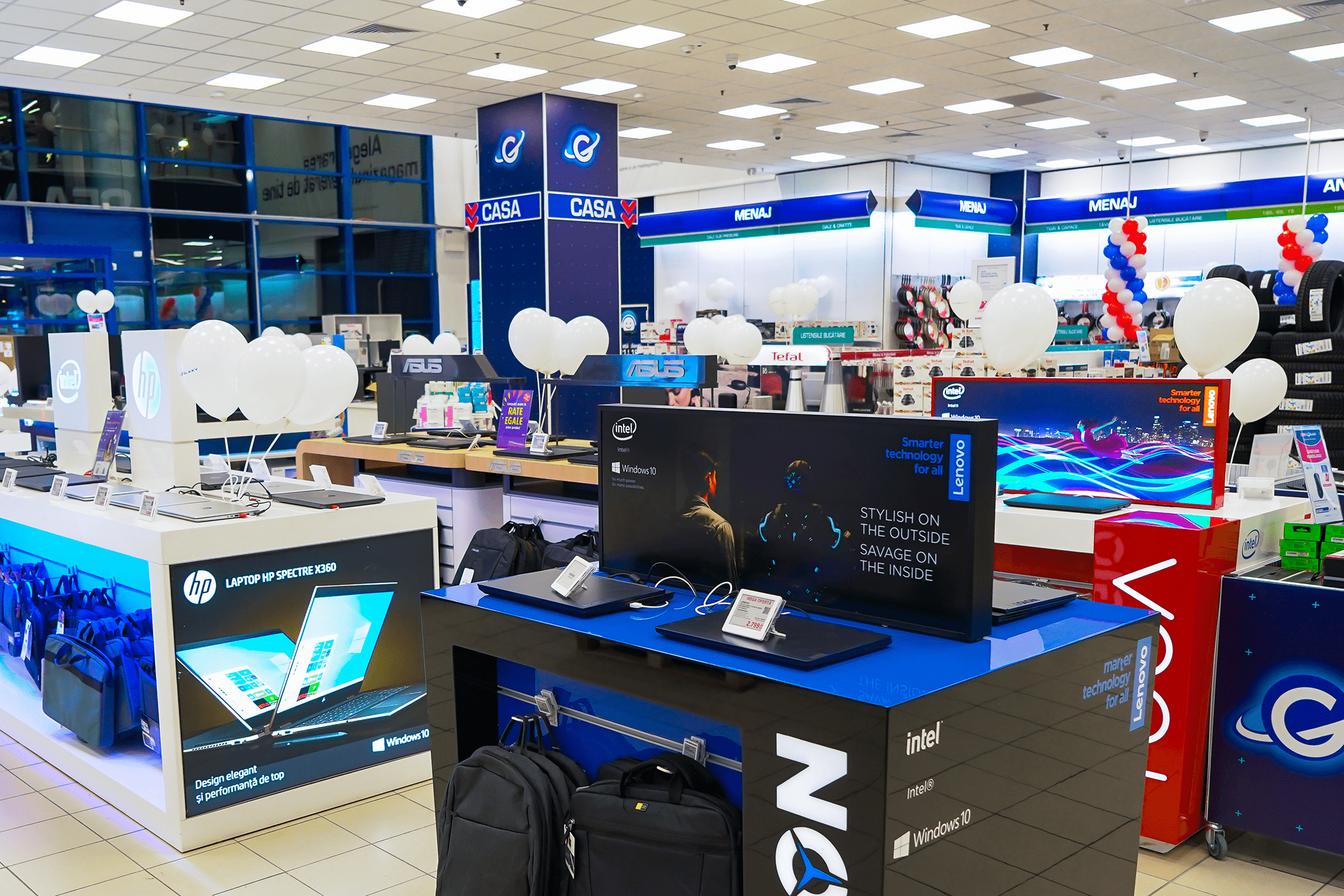 Come to Media Galaxy and discover the most varied range of electronics and electrical appliances
Media Galaxy, the place where you can always find electronics and electrical appliances from various brands
Media Galaxy is one of the biggest store networks in the country, which offers customers access to a wide range of electronics and electrical appliances.
Since launching on the Romanian market, more than 16 years ago, Media Galaxy aimed at bringing forth products from the top international brands, for different budget categories, that could make the customers' everyday lives easier.
So, among the electronics and electrical appliances popular at Media Galaxy we mention: phones, tablets, large home appliances such as washing machines, refrigerators, dishwashers, small electrical appliances such as espresso machines and coffee makers, various cooking appliances and irons.
Thus, no matter the type of product you're looking for, at Media Galaxy you'll surely find the one that will make your life and daily tasks easier, whether we're talking about cooking, washing clothes, washing dishes or ironing clothes.
On top of that, there's a good chance that you'll find your favorite electronics and electrical appliances brands in the Media Galaxy offer. Here are just some of the hundreds of brands included the shop's catalogue: Samsung, Apple, Acer, Electrolux, LG, Ariston, Lenovo, Miele.
Apart from electronics and electrical appliances, at Media Galaxy you can find many products from the following categories: videogames, cleaning and housekeeping products, do-it-yourself products, cosmetics and many, many others.
Come to Media Galaxy Supernova Pitesti and buy the products you need in installments!
Is your freezer broken and you urgently need a new one? Are you dreaming for quite some time about a top home appliance but you don't have the full amount yet?
For such situations it's worth knowing that Media Galaxy offers their customers the option of using several crediting methods. For example, you may benefit from interest-free installments through the BRD card or different installment options from ING, Banca Transilvania, Alpha Bank, Garanti Bank, Cetelem, Unicredit or Card Avantaj.
One of the fastest and simplest options, that does not require additional paperwork, is the Credex installment system, available at the Media Galaxy Supernova Pitesti shop.
Whether you need additional information about crediting options or about the specifics for certain products of interest, the Media Galaxy Supernova Pitesti shop staff is ready to offer the necessary details and help you make the best choice for yourself.